THE NEGRO NATIONAL ANTHEM (In "G")
"Life turns on a dime. Sometimes towards us, but more often it spins away, flirting and flashing as it goes: so long, honey, it was good while it lasted, wasn't it?" Stephen King From his novel: "11/22/63."
******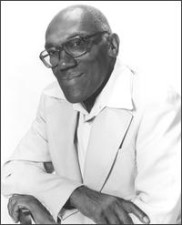 Tuesday Night 11 P.M.
The past three weeks have been devoted to the saga of Stagger Lee. I was going to continue discussing Blues as social media beginning with Louis Jordan, and then I stumbled across the story of a song known to an entire generation as "The Negro National Anthem.
The Facts:
1933- While attending Alabama State Teachers College, trumpeter Erskine Hawkins becomes leader of the "The 'Bama State Collegians." The Collegians are the school's Jazz band. Pianist for the band is Birmingham native, Avery Parrish.
1934- Hawkins moves the band to New York, changes the name of the group to "The Erskine Hawkins Orchestra.
1938-Hawkins, along with other members of his group, writes an instrumental about a bar on the Chitin' Circuit in Ensley, Alabama. The song is "Tuxedo Junction."
1939- Composer and lyricist Buddy Feyne writes lyrics to "Tuxedo Junction."
1939:  Glenn Miller slows down the tempo, adds some trumpet fanfares, and has a number one hit with "Tuxedo Junction." It sells at the rate of 115, 000 copies per week. Miller's version is released on the RCA-Bluebird label.
1940- The Erskine Hawkins Orchestra records "After Hours" a twelve –bar blues, written and performed by twenty-three year old pianist Avery Parrish. The song is first released on the tiny Advent label, and then picked up for release by RCA-Bluebird.
1940- Buddy Feyne, under the pen name of Robert B. Wright, pens lyrics to "After Hours" and another song by Hawkins, "Dolemite."
1941-Parrish quits the band.
1941- Parrish moves to California. Soon after relocating there, he is partially paralyzed as the result of injuries from a bar fight.  At the age of twenty-four, his career is over. He never plays piano again.
1941-1945 – "After Hours" becomes known as "The Negro National Anthem." There is no official declaration made, however, Parrish, being from Alabama,  has most certainly been exposed to what Thomas A. Dorsey described as the "lowdown, gutbucket blues." "After Hours" blends old-fashioned blues licks with just enough sophistication to make it acceptable for Black folks only two generations removed from slavery, struggling to shed rural, unsophisticated stereotypes. The songs' simple form embraces the blues but smoothes out the rough edges, making it acceptable to a slowly emerging Black middle class. Along with demands for an end to Draconian Jim Crow laws, Black folks discourage the use of such demeaning terms as Nigra and "Colored" in favor of Negro. "After Hours: serves as an anthem for those struggling to secure civil rights and societal acceptance.
1952-? – Herman Grizzard hosts "After Hours" on WLAC a 50,00 watt AM station in Nashville, Tn. WLAC booms out over twenty eight states and several countries, bringing pure, undiluted Rhythm and Blues to Black and White audiences for over thirty years. Grizzard uses the Hawkins tune as his theme song.
1958- Avery Parrish dies under "mysterious" circumstances at the age of forty-two in Los Angeles.
1960 (approx) "Lift Every Voice and Sing" becomes "The Negro National Anthem" for the next generation and the Civil Rights movement.
1972- Ray Bryant performs a live version of "After Hours" at the Montreux Jazz Festival. He introduces it with: "I think it's the greatest piano blues solo in the world." He plays a note-for-note rendition of the song, and receives a thunderous ovation at the end of it.
July, 1979-While staying with Sunnyland Slim in Chicago, I visit pianist Erwin Helfer. He offers to teach me Blues piano. The first song he recommends I learn is "After Hours." He gives me a copy of the song, reissued by RCA on forty-five RPM.
Spring, 2005- I speak with seventy-two year-old Harold Bessent owner of "Fat Harold's" a dance club often listed as the world headquarters of Carolina Beach Music in North Myrtle Beach, S.C. At the end of a long interview, I ask him about his all-time favorite song. He answers:  "An old Blues tune called 'After Hours.".
October 3, 20212- While researching this article, I notice that there is still no sheet music to the original available. The only sheet music is for the vocal version sung in a different key (A flat) than the original (G major). A jazz site, dothemath.typepad.com, posts an obituary for Ray Bryant. Discussing Bryant's style, which bridges the gap between Jazz and Blues, the article notes:
"Bryant deals more exclusively with the folk side of things on another 1957 recording, "After Hours" on Dizzy Gillespie's "Sonny Side Up". The original recording of "After Hours" by the composer Avery Parrish with Erskine Hawkins was a huge hit and the progenitor of a kind of urban, glistening, and patient piano blues.
Despite its fame, there has never been accurate sheet music to "After Hours" available. No classical pianist has ever been able to play it. To learn it requires extensive listening to the record — and, ideally, someone who can play it already to show you how parts of it go. You don't have to come from the black community to acquire the right information, but it surely doesn't hurt."
 "After Hours" is indeed, the song that all Blues piano players are expected to know. However, in thirty years, I have run across very few jazz players that are familiar with it. The observations in the above quote are correct, you have either watch somebody play it, or listen to it over and over on your practice tape. The primitive recording makes it almost impossible to hear exactly what Parrish is playing, and therefore, everyone plays it slightly different, but always in the key of "G." The only sheet music I could find is for the "vocal" version in the dreaded key of "A Flat."  In the last seventy years it has been re-recorded numerous times by such artists as Muddy Waters, Danny Gatton, Glenn Miller, Bobby Enriquez, Pinetop Perkins and Henry Mancini.
Blues For Avery
If you Google ""Erskine Hawkins" you'll find numerous entries and several collections of his great music still in print.
A "Search" for Avery Parrish yields:
– Wikipedia: A brief bio and no picture
–Allmusic.com:  The same bio and no picture
– Allaboutjazz.com: Once again, the same bio, and a picture…of Bull Moose Jackson.