"Howard Tate was the missing link between Jackie Wilson and Al Green."
–Elvis Costello
Fort Lauderdale, Florida – October 2006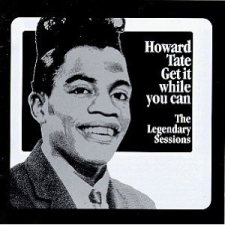 When we had word of the passing of the great Howard Tate, Rev. Billy C. Wirtz came to call. This is his salute to the great soul/blues singer and one of the great albums ever recorded.
Taj Mahal waved both his hands in a dismissive "Don't even bother to go there" gesture. We were sitting with a couple of friends, poolside at a hotel in Fort Lauderdale, following the Legendary Rhythm & Blues Cruise. As usual, our conversation drifted to forgotten singers, great deejays, and radio stations like WLAC. We were talking about great records and I mentioned an album that spawned not one but three multi-platinum hits for other artists, and had been criminally overlooked by all but the most devout music lovers.  Get It While You Can by Howard Tate, produced by Jerry Ragovoy, both of whom passed in the last couple of weeks.
If any single album could be chosen as having a far-reaching influence on modern music, this one would have to be in the top three.
You want proof? Witness the songs:
"Ain't Nobody Home": The first cut on the album. It will make you turn up those little computer speakers as loud as they will go. One of the songs that took Bonnie Raitt from the club stage to selling out small stadiums; her version a note-for-note re-make.
"Get It While You Can": Look on any decent jukebox stocked with hits of the 1960s and you'll probably find this song re-recorded by Janis Joplin. Her version [also produced by Ragovoy] is also a note-for-note copy of the original. The arrangement on this album… Listen to the opening, no I mean really listen; this might be THE most beautiful soul ballad ever recorded; it never, ever fails to leave me in tears; it opens with just a piano and then Cornell Dupree comes in playing a beautiful Rotoverb-drenched guitar part; breathtaking vocals, a horn arrangement that has to be heard to be believed and lyrics by the genius Mort Shuman.
"Stop": Redone by the James Gang and Jimi Hendrix, among others. Again, note-for-note versions.
"Part-Time Love": A hit for Little Johnny Taylor, later re-crafted as "Full Time Lover" by the Fabulous Thunderbirds. Once again, incredible horn arrangements and vocals that require repeated listening to even grasp.
"How Blue Can You Get": Originally recorded by Louis Jordan. No one, including B.B. King ever topped Tate's incendiary vocals on this one.
This isn't even a complete listing, there is also "I Learned It All The Hard Way," "How Come My Bulldog Don't Bark," "Look At Granny Run, Run," and several others to complete what The Allmusic guide lists as "An essential '60s soul collection, showcasing a singer who bent soul, blues, gospel, and pop to his own will, creating some of the most distinctive R&B of the decade."
Howard Tate was born August 13, 1939 in Macon, Georgia. At an early age, he moved to Philadelphia, Pennsylvania. He began his music career as the vocalist for Bill Doggett ["Honky Tonk"]. He was also a member of the Gainors, a Doo Wop group which included another future legend and member of the Ragovoy stable, Garnet Mimms. Mimms stunned the R&B world with an apocalyptic, all-stops-out number entitled "Cry Baby" in 1964. Later re-recorded by [once again] Janis Joplin, Garnett's original (and definitive) version is one of the first records to usher in the era of the heavily Gospel-influenced style known as "Soul Music."
In 1966, Tate went into the studio and recorded an album that still stands today as one of the greatest albums of any genre ever recorded. It was a perfect album in every respect. The playing was breathtaking, trumped only, on song after song, by the vocal performances of a lifetime. The songs covered the A to Z of great subjects: double crossing lovers, betrayal, regaining one's dignity, and a song ("Get It While You Can") that took the subject of love and placed in the context of a world view that rings even truer in today's world than it did when first released.
If great music can change a career for the better, this album should have put Tate in the ranks of Otis Redding and B.B. King, but it didn't. As a matter of fact, for all of the accolades it would later receive, it was, at the time of its release, a flop.
In the early 1970s, sick and disgusted with being burned on royalties, being passed over again and again for decent management and touring dates, and the rampant corruption of the music business, Tate walked away from it all, mainly because, according to him: "Back in the day, we just didn't get paid — at least black artists didn't get paid," he said. "We had no protection, and who knows what happened to the money along the way?"
He took a job as an insurance salesman, and for a while life was beginning to smooth out, and then in the 1980s he was hit with a series of the worst personal tragedies imaginable. His wife left him, his daughter was killed in a house fire. It was too much, Tate began to self-medicate, first with the bottle and ultimately with the crack pipe. In a short time he was homeless, living in the shelters of Camden, New Jersey; the once-great voice now offering to wash cars for twenty bucks.
In 1994, He turned it all around. He checked into rehab, became a born-again Christian and once again, with Jerry Ragovoy, stepped back into the studio. He recorded the Grammy-winning Rediscovered. Assisted by a landmark interview on N.P.R's "Fresh Air" He began to play festivals, his performances leaving audiences speechless and the reviewers searching for superlatives; after forty years, Howard Tate began to reclaim his rightful place among the legends of American music. It wasn't all about fame and fortune. He told the N.P.R interviewer: "When I was on the drugs and homeless, I never thought I could recover from that." He said, "It was the fight of my life. I was so thrilled and happy when God set me free from being a drug addict, and I wanted to share that with those out there suffering. They need to know there's hope, and the hope lies in God. That's why I decided to come back."
On On Friday, December 2, 2011, after a prolonged battle with cancer, God called Rev. Howard Tate home. He left the kind of legacy that all musicians aspire to. To paraphrase the great T-Bone Walker: "All those gold albums, all that money, when all is said and done, they don't mean that much, respect is the only thing that lives on after you go." I would be hard-pressed to think of a dozen artists that left this world with more respect or made a better album than Get It While You Can. If you've never heard it, you must find yourself to find a copy. Try Emusic.Com, they have a download for the obscenely cheap price of seven bucks (there's also a couple of great interviews available on N.P.R's archives.) After you've listened to the songs for the twentieth time in a week, you'll understand why calling it a masterpiece is a laughable understatement, and when it comes to ranking its place among the greatest albums of all time, you'll understand why a fellow legend like Taj Mahal would advise "Don't even bother to go there."
Rev. Billy C. Wirtz is a contributing writer at BluesWax. He also plays piano.